Introduction
Hello everyone! Today I'm going to explore a super cool home décor item with you – the plinth cube side table! This glamorous home décor piece is enchanting with its unique texture and timeless taste. Each piece of natural marble is a masterpiece of nature, carrying infinite mysteries and treasures, like deep starry skies and vast oceans. Its lustre and fine texture are like nature's paintbrush, which draws a unique art scroll on the coffee table. The plinth cube side table is a perfect blend of art and function, exuding a captivating aura that honours and satisfies everyone who owns it. This coffee table is not only stunning, but also has the perfect combination of practicality and beauty. Its spacious tabletop can easily accommodate all kinds of household items, from coffee cups, books to vases. And the wide base design ensures solid support, allowing us to place other small items as we please. Whether it is placed in the living room or study, the marble base coffee table is one of the most popular home furnishings, adding a lot of convenience and comfort to our lives.
Characteristics
When it comes to plinth cube side table, it is simply the perfect blend of art and function. Each piece of natural marble is a masterpiece of nature, carrying infinite mystery and treasure, just like the deep starry sky and the vast ocean. The delicate texture of the lustrous marble seems to be nature's hand painting a unique artistic picture on the table. With the plinth cube side table, our home environment immediately becomes noble and elegant, like being in a temple of art. Such home decorations will not only enchant ourselves, but also our family and friends will be fascinated by it.
Plinth cube side table are available in a variety of designs to meet different home decor needs. Whether you like simple and modern or classic and vintage, it can add a lot of colour to your space. The material of the base and the colour of the coffee table top complement each other, forming a visual harmony of beauty. Marble exudes a noble aura that makes our home environment look dignified and elegant for our family and friends.
In social events, plinth cube side table is a highlight. Whether it is a family gathering or a small gathering of friends, it becomes the ideal place for communication and interaction. The spacious table top accommodates delicious refreshments and snacks, making our happy hours even more colourful. Accompanied by the warm sound of laughter, the marble base coffee table becomes an emotional bond between family and friends, making every gathering special and unforgettable.
Summary
In this ever-changing world, plinth cube side table is a solid support for our life, as an eternal lighthouse, guiding our way forward. It allows us to feel the wisdom of indifference and the power of serenity, teaching us to maintain a serenity in the hustle and bustle, and to maintain an indifference in the flamboyance. In the company of marble, we have learnt to appreciate the simple and sincere beauty, and learnt to cherish every beautiful moment in life.
Marble base coffee table is a testimony of our pursuit of quality life. It allows us to re-examine the details of life, know how to taste the beauty and true meaning of life. Whether it is a cup of strong coffee, or with friends and family to share happy times, marble base coffee table has become our companion. It plays an important role in our lives, making our lives more fulfilling and meaningful.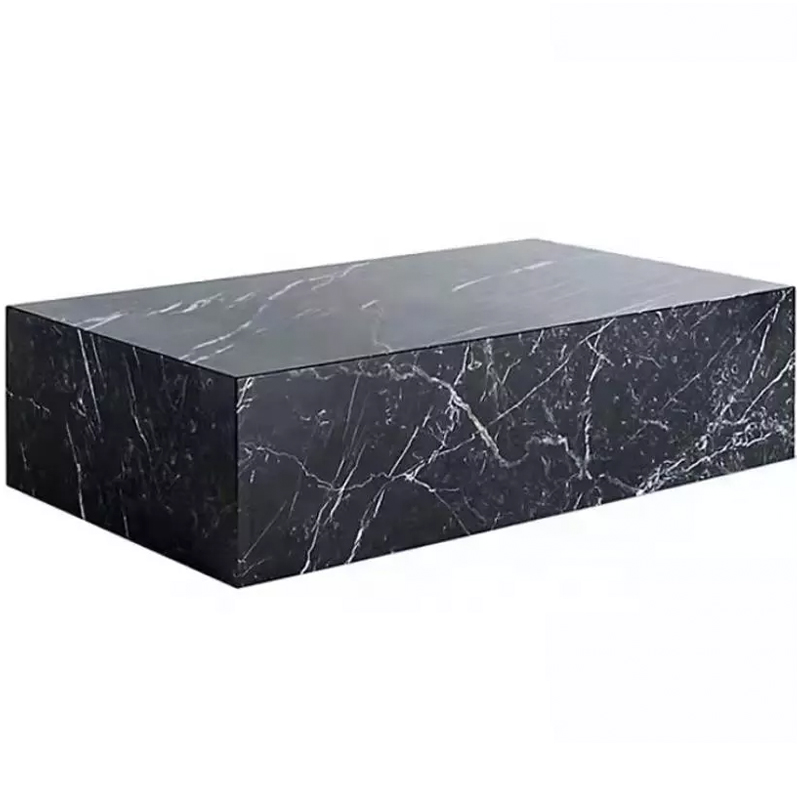 Let's cherish every moment of the plinth cube side table and let it witness every bit of our life. Let us enjoy the morning sunshine every day and feel the warmth and touch of every moment in its company. Let us embrace gratitude and joy, and marble base coffee table together to create more beautiful memories, let it witness the eternal bright star of our life. In the company of marble base coffee table, we get the soothing of the soul and the beauty of life, so that our life is more fulfilling, wonderful and happy because of it.
Related Products